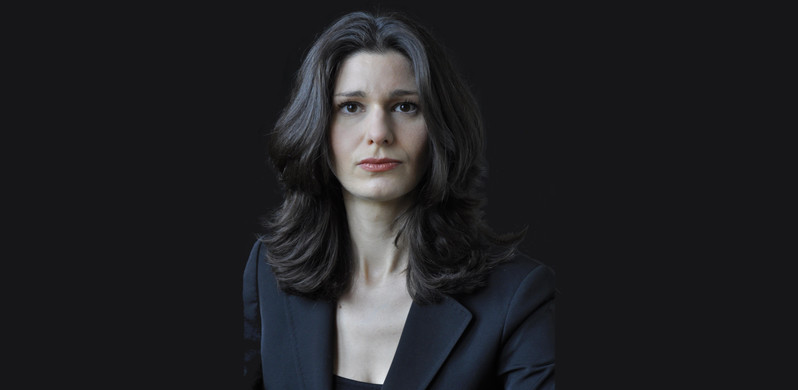 Eva Meitner is a German conductor of French-German origin. Since January 2015 she is chief conductor of the Sinfonisches Orchester Hoyerswerda and since 2018 chief conductor of the Freies Orchester Leipzig. Since 2018 she's also conductor of projects with the Konzertchor Leipzig and conducting teacher at Erfurt University since season 15/16. She plays also piano/harmonium at the Trio CornoVoce and Duo TastoCorno. Since 2017/18 she's also a mentor at the Mentoring arts programme of the Leipzig Musikhochschule.
Eva Meitner has a very special interest on works from female composers. She conducted an all female composers programme with works from Amy Beach, Alice Mary Smith, Fanny Hensel, Ethel Smyth and Susanne Hardt at the Festival of Lights Leipzig 2018 with Freies Orchester Leipzig. In February 2019 she conducts a CD recording session with Filmorchester Babelsberg with works from 11 women composers of the female composers' collective Track15.

In March 2015 she participated in a conducting workshop with Kristjan Järvi and the Baltic Sea Youth Philharmonic in Luslawice, Poland. In September 2015 she participated in a conducting masterclass with Kurt Masur at Gewandhaus Leipzig and a conducting masterclass with Hamburger Symphoniker with Prof. Ulrich Windfuhr and Prof. David de Villiers in Hamburg. Currently she assists the deputy General Music Director Anthony Bramall in productions at Leipzig Opera (season 13/14: Stravinsky "The Rake's Progress", Verdi "Missa da Requiem"; season 14/15 Verdi "Nabucco", Gounod "Faust", Donizetti "Don Pasquale", Brecht/Weill "Die Dreigroschenoper", Puccini "Madama Butterfly"; season 15/16 Bernstein "Trouble in Tahiti"/Barber "A hand of bridge", Rachmaninov piano concertos 2&3, Puccini "Madama Butterfly", Humperdinck "Dornröschen", Gounod "Faust", Verdi "Nabucco", Brecht/Weill "Dreigroschenoper", Rossini "Cenerentola").
During her school years Eva Meitner studied violin, flute, piano and voice. In the years 2003-2009 Eva Meitner successfully completed her general music studies (main subject: "conducting") at the University of Music Trossingen. In the years 2011-2013 Eva Meitner studied "Master of conducting" (orchestral conducting with Mr. Martin Hoff, choir conducting with Prof. Jürgen Puschbeck) at the University of Music FRANZ LISZT Weimar. During the season 13/14 she was artistic and musical director of the Werkstattorchester Dresden. In 2014 she obtained a bursary from the Richard Wagner Scholarship Foundation and conducted Mozart's "Entführung aus dem Serail" at Pforzheim theatre. Furthermore she was one of the International Opera Awards Foundation bursary recipients 2014.
Conducting the Hochschulsinfonieorchester Trossingen, Jena Philharmonic, Werkstattorchester Dresden, Sinfonisches Orchester Hoyerswerda, Badische Philharmonie Pforzheim, Landeskapelle Eisenach, Philharmonisches Orchester Freiburg, Staatsphilharmonie Nürnberg, Baltic Sea Youth Philharmonic, Hamburger Symphoniker, Mitteldeutsches Kammerorchester and members of the MDR-Sinfonieorchester and the Gewandhausorchester (conducting masterclass 2014 Mendelssohnhaus Leipzig) Eva Meitner could already get some important experience in conducting professional orchestras.
Eva Meitner completed her studies by listening to rehearsals at Deutsches Nationaltheater Weimar, Leipzig Opera, Hamburg State Opera, Deutsche Oper Berlin, MDR Sinfonieorchester and Gewandhausorchester Leipzig.