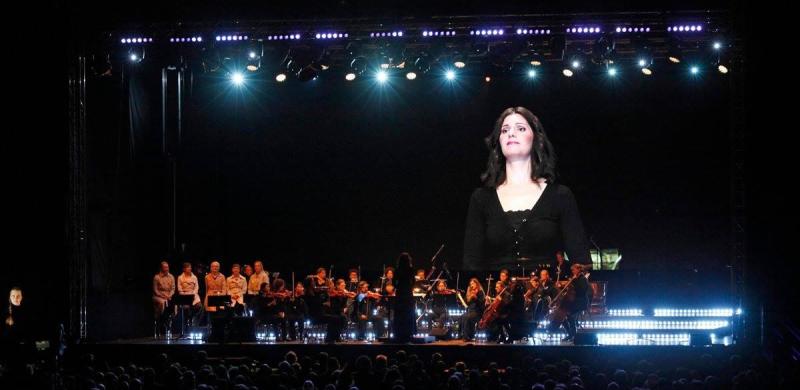 Unquenchable Passion
"(Freischütz Overture:)
(...) A brilliant, promising start of the concert. These opening moments are enough for the orchestra to reveal its potential of intrinsic harmony: Breathtakingly, in flawless perfection, the symphonic work of art unfolds itself in masterfully controlled suspense of such a homogeneous nature rarely to be heard. Eva Meitner conducts with assurance, precision and compelling personal charisma.
(Bruch violin concerto:)
(...) (The orchestra) accompanies the soloist attentively and with great sensitivity, responds intuitively to every musical hint, merging in mutual comprehension yet holding its own as an equal partner.
(Brahms, 2nd symphony:)
The concept and intentions of the conducter reach fruition on a high level. She and the orchestra have become as one, creating in unison a tapestry of sound worthy of Brahms. Congratulations and sincere thanks for this wonderful achievement. (...)"
(Sächsische Zeitung, Hoyerswerdaer Tageblatt, 11.5.15, Dora Gebauer)
Standing Ovations
"(...) Unruffled and serene, Eva Meitner steered the ensemble through Weber's brisk prelude. The musicians interpreted her instructions with apparent ease. And anyone who failed to sense the delicious shiver prompted by that adagio of Bruch's violin concerto number 1 in G-minor ( if not by some earlier sublime moments) must definitely be beyond the reach of common sensitivity.
(...) At the end of a memorable concert event the budding cooperation of the members of Hoyerswerda's symphonic orchestra with their maestra Eva Meitner can only be called superb. No wonder this new partnership has captured the hearts of the audience straightaway and been rewarded with standing ovations.
Lausitzer Rundschau, 12.5.15, Mandy Decker
Lichtfest 2018 setzt starkes Zeichen für Teilhabe
2018 gehört die ganze Bühne beim Leipziger Lichtfest den Frauen
10. Lichtfest: So erinnert Leipzig an die Friedliche Revolution